January 31, 2017
Kirthevasan Kandasamy Named 2017 Facebook Fellow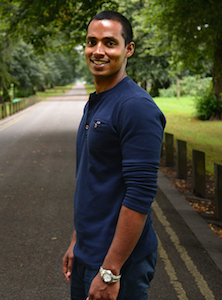 Kirthevasan (Samy) Kandasamy has been named to the 2017 class of Facebook fellows.

A fourth-year Ph.D. student in the Machine Learning department, Kandasamy works with Research Professor of Robotics Jeff Schneider and Assistant Professor of Machine Learning Barnabás Póczos on bandit optimization and other sequential decision-making problems. He's also interested in various topics in nonparametric statistics. 

Founded in 2010, the Facebook Fellowship program is designed to help foster ties with the academic community, encourage and support promising Ph.D. students engaged in research across computer science and engineering, and provide those students with opportunities to work with Facebook on problems relevant to their research. Since its inception, the program has supported more than 50 Ph.D. candidates, whose research covers topics that range from from power systems and microgrids to the intersection of computer vision, machine learning and cognitive science.

Facebook fellows receive full payment for two years of tuition and fees, a stipend of $37,000 each year and up to $5,000 in conference travel support. More than 800 students applied for this year's program, and 13 fellows were selected.