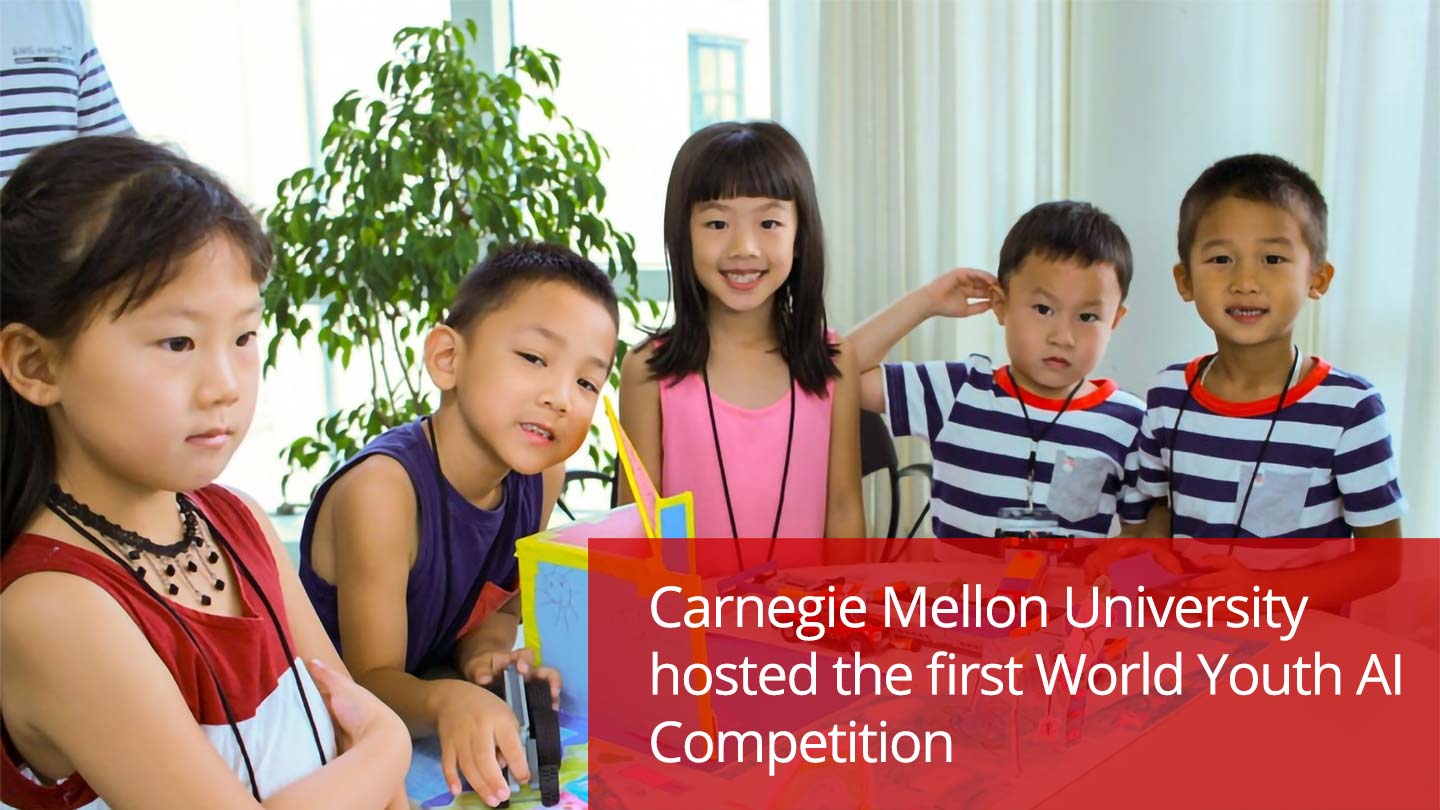 August 06, 2018
Carnegie Mellon University Hosts First Youth AI Competition
By Pauline Dolle
Media Inquiries
Byron Spice
Director of Media Relations
Carnegie Mellon University teamed up with the Pittsburgh-based educational company WholeRen Education LLC to host the inaugural World Artificial Intelligence Competition for Youth, or WAICY 2018, at the end of July. The week of workshops and the final competition demonstrated that students of all ages can understand artificial intelligence if given the proper equipment and training.
''At first, Max could identify what he wanted to do but couldn't connect it to the robot,'' said Sha Onyang, the mother of the competition's youngest participant, 4-year-old Max Tongxi Zhao. ''Then he saw that Cozmo could do a lot of things. The professors guided him to collaborate with others and design his project.''
One hundred and thirty students between the ages of 4 and 18 some from as far away as China, Sweden and England, competed in person on 30 teams. An additional 20 teams competed remotely from around the world.
The students came from a wide variety of backgrounds, and for many it was their first experience with AI programming.
''We don't want kids to be left out of technology,'' said Brian White, president of WholeRen Group.
Using WholeRen's ''AI-In-A-Box,'' a toolkit developed with input from CMU alumni and faculty, each team designed and executed projects that answered a simple question: How can AI change our lives?
Two 11-year-old boys envisioned a robot that could take orders at a restaurant and deliver the correct plates. One team had a 6-year-old member with a speech impediment and was inspired to program Cozmo to speak for their friend in response to stimuli. Several teams saw the potential for robots to mine resources in areas too dangerous for humans, like underwater caves or to rescue people from disaster zones.
A pair of girls, Tassneem Khattab and Weeam Guetari, ninth and 10th graders, respectively, at Pittsburgh's South Fayette High School, designed a scenario in which Cozmo could be shrunk down and used in micro-surgeries.
''I didn't know about a lot of the things that Cozmo could do. I learned that technology is more advanced than I thought,'' Khattab said.
''We used facial recognition, landmark navigation, state machine programming, and voice generation,'' Guetari said.
Khattab and Guetari, who said she plans to study robotics in college, won the Multimedia Excellence in Audio Design and the Senior Division Award.
''In the future, AI education will be as common as math skills or language skills, so we want students to, from a young age, learn what AI really means,'' said Andrew Chen, chief development officer of WholeRen Group.
The main component of the AI-In-A-Box is the Cozmo Robot, the palm-sized creation of three CMU alumni who founded the technology company Anki after graduating from CMU's Robotics Institute. Also in the box was programming software called Calypso, designed by CMU computer science professor Dave Touretzky, an Amazon Fire 7 tablet, an Xbox controller and an instruction book for students and teachers.
Touretzky taught some of the week's workshops and was one of the judges of the competition. His software Calypso ''lets Ph.D. level programming be done by 8-year-olds,'' he said.
''Conditional programming languages force students to work at a very concrete level — tell the robot, 'Move forward 50 mm. Turn 15 degrees.' It's very tedious and it's easy to make mistakes. Calypso works at a more abstract level. There are no coordinates. Instead, Calypso talks about objects — 'If you see a blue cube, move towards it.' So students are able to describe what they want Cozmo to do,'' Touretzky said.
Because Cozmo is equipped with a camera, students are able to view what the robot 'sees' and give visual directives — another first in AI education.
Sam Critelli, a lead software engineer for Anki and another participating judge, was especially impressed by a team of three 10-year-old girls from the South Fayette School District, who used Cozmo's facial recognition capabilities to prompt the robot to bring them baked goods when they showed Cozmo a ''sad'' face. This team won the Intermediate Division Award for their project.
''I was blown away by how much they had learned in a couple of days. Young students have a raw intelligence that can yield amazing results when exercised,'' Critelli said.
Other schools in the Pittsburgh area, including the Montour School District and Quigley Catholic School in Beaver County, have already incorporated the WAICY AI workshops into this year's curriculum. Dominic Panucci, branch director of the Boys and Girls Club in Carnegie, said the afterschool program also is using the WAICY curriculum this year.
''We are looking to have these workshops at every club in Pittsburgh and then have a local competition between clubs,'' Panucci said. ''AI is a team-building activity,'' which is a focus of the Boys and Girls Club.
CMU has a long history in artificial intelligence including the creation of the first AI computer program in 1956 and pioneering work in self-driving cars, facial recognition and natural language processing. CMU recently announced a new undergraduate degree in artificial intelligence — the first of its kind in the U.S. — providing students with in-depth knowledge of how to transform large amounts of data into actionable decisions.