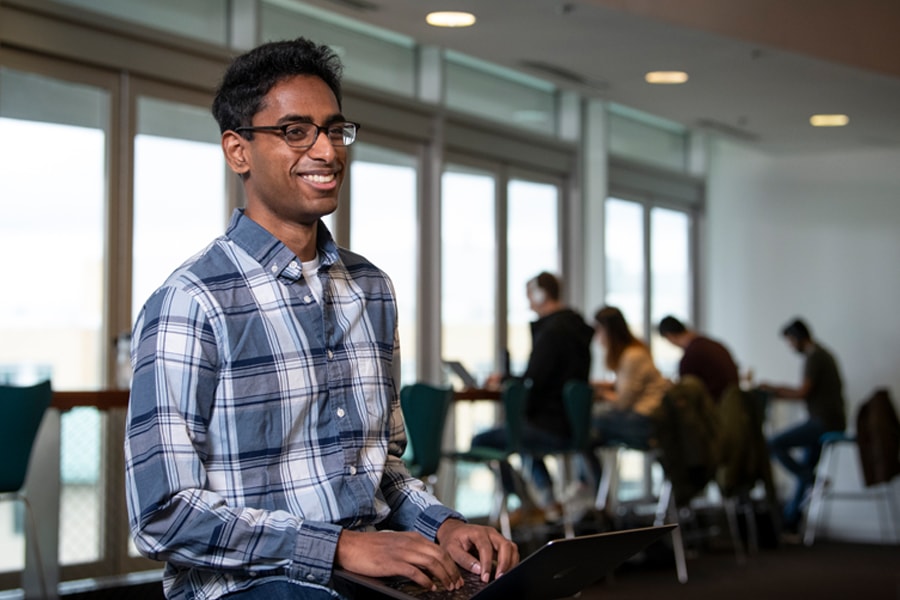 December 03, 2018
Machine Learning Graduate Student Named Schwarzman Scholar
The Schwarzman Scholars program prepares future global leaders to meet the geopolitical challenges of the 21st century.
By Susie Cribbs cribbs(through)cs.cmu.edu
Media Inquiries
Byron Spice
Director of Media Relations
Hima Tammineedi, a graduate student in Carnegie Mellon University's School of Computer Science, has been named to the 2020 Class of Schwarzman Scholars, a highly competitive graduate fellowship program inspired by the Rhodes Scholarship that features one year of study at Tsinghua University in China.
Launched in 2016, the Schwarzman Scholars program prepares future global leaders to meet the geopolitical challenges of the 21st century. During their year of study, the world's best young minds explore the economic, political and cultural factors that have contributed to China's growth as a global power. Tammineedi is the second CMU student to be named a Schwarzman Scholar. Chrystal Thomas, who graduated from the Mellon College of Science, earned the award in 2016. 

"The program brings the world's future leaders to China because it is and will continue to be one of the largest factors influencing the future of the world — politically, economically and technologically," said Tammineedi, who earned his bachelor's degree in computer science with a minor in machine learning from CMU in May. "Having an understanding of the country will be essential in order to be a global leader. This directly aligned with my interests for my future, and given that I already had a big interest in China, it's the perfect opportunity for me."

Tammineedi is one of 147 students worldwide selected for the program. More than 2,800 students applied for the fellowship, which begins in August.

"Our newest class includes a diverse group of future leaders from around the world," said Stephen A. Schwarzman, co-founder and CEO of Blackstone and chair of Schwarzman Scholars. "They join a global network of scholars who have committed themselves to being a force for change, regardless of where their professional or personal passions take them. My hope is that a year in Beijing will inspire and challenge these students in ways they haven't even imagined. I look forward to seeing how this new class will leave its mark."

Schwarzman Scholars spend a year in Beijing, where they earn a master's degree in global affairs from Tsinghua's Schwarzman College. In addition to taking classes in the core curriculum, scholars pursue an individually designed concentration in public policy, international studies, or economics and business. Outside the classroom, scholars gain exposure to China through internships, mentorship opportunities, special speakers and travel.

Tammineedi, who will earn a master's degree in machine learning in May 2019, will study public policy as a Schwarzman Scholar. He worked with Richelle Bernazzoli, assistant director of CMU's Fellowships and Scholarships Office, to complete the grueling application process that included in-person interviews.
"Hima is a budding expert in artificial intelligence whose interests span machine learning, transportation and urban issues. It was clear from our first meeting that he has been on an impressive trajectory since high school," Bernazzoli said. "Every step of the way, Hima has approached his work with humility, thoughtfulness and a sense of responsibility to society. These qualities will make him an excellent Schwarzman Scholar and leader in his field for years to come."

While Tammineedi said he is excited to learn from global leaders and the strong group of peers that will surround him during his scholar experience, he also is looking forward to expanding his education beyond computer science.

"I've studied computer science and machine learning at CMU, and that's where a lot of my interests lie. But my ultimate goals involve effecting change in the world at a large level," Tammineedi said. "While I do believe that a deep understanding of tech could make this change possible, I don't think just knowing tech can lead to the best changes. I want to develop a better understanding of how the world and its countries and governments function in order to understand the best ways technology can help."
Find out more about this year's Schwarzman Scholars.
Article, courtesy of Susie Cribbs | Sr. Communications Specialist | School of Computer Science | cribbs@cs.cmu.edu