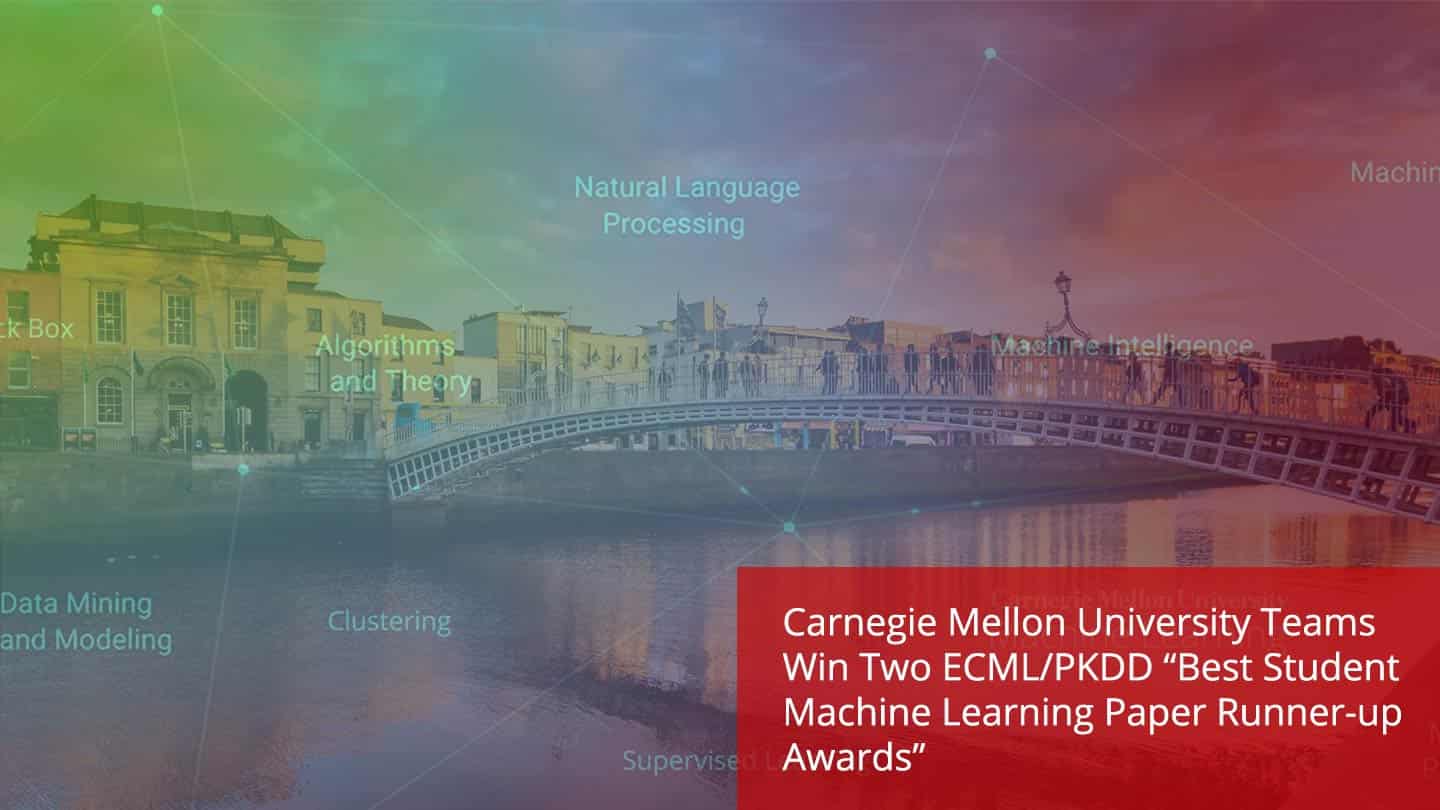 September 18, 2018
Two Carnegie Mellon University Teams Win ECML/PKDD "Best Student Machine Learning Paper Runner-up Awards"
By Roberto Iriondo ririondo(through)cs.cmu.edu
Media Inquiries
Byron Spice
Director of Media Relations
Two teams from Carnegie Mellon University won Best Student Machine Learning Paper Runner-up Awards at the European Conference on Machine Learning and Principles and Practice of Knowledge Discovery in Databases (ECML/PKDD 2018) in Dublin, Ireland, this week. The event is the premier European machine learning and data mining conference. 
CMU's winning team members include faculty and students from the Machine Learning and Computer Science Departments in the School of Computer Science, as well as the Department of Electrical and Computer Engineering, and Heinz College.
The first submission, GridWatch: Sensor Placement and Anomaly Detection in the Electrical Grid [.pdf], is the result of a long and on-going collaboration between the School of Computer Science and the Department of Electrical and Computer Engineering. 
The paper solves two related problems:
It gives fast algorithms to detect anomalies in power-grid networks, for a given set of voltage and current sensors placed on some nodes and edges.
It shows where to put such sensors, to maximize detection probability. Team members include: Bryan Hooi (MLD/Stat), Dhivya Eswaran (CSD), Hyun Ah Song (MLD), Amritanshu Pandey (ECE), Marko Jereminov (ECE), Larry Pileggi (ECE), Professor Christos Faloutsos (CSD/MLD).
The second, Incorporating Privileged Information to Unsupervised Anomaly Detection [.pdf], describes 'SPI', a novel anomaly detection method that can take into account privileged' information, that is, data available only for training examples, but not for the testing ones. The resulting method consistently outperforms baseline competitors. The team members are: Shubhranshu Shekhar (Heinz), and Leman Akoglu (Heinz/MLD/CSD). Professor Akoglu is affiliated with the Machine Learning Department, and holds a courtesy appointment with the School of Computer Science and is an alumna with the Computer Science Department. 
Please join us in congratulating both teams for their joint efforts.