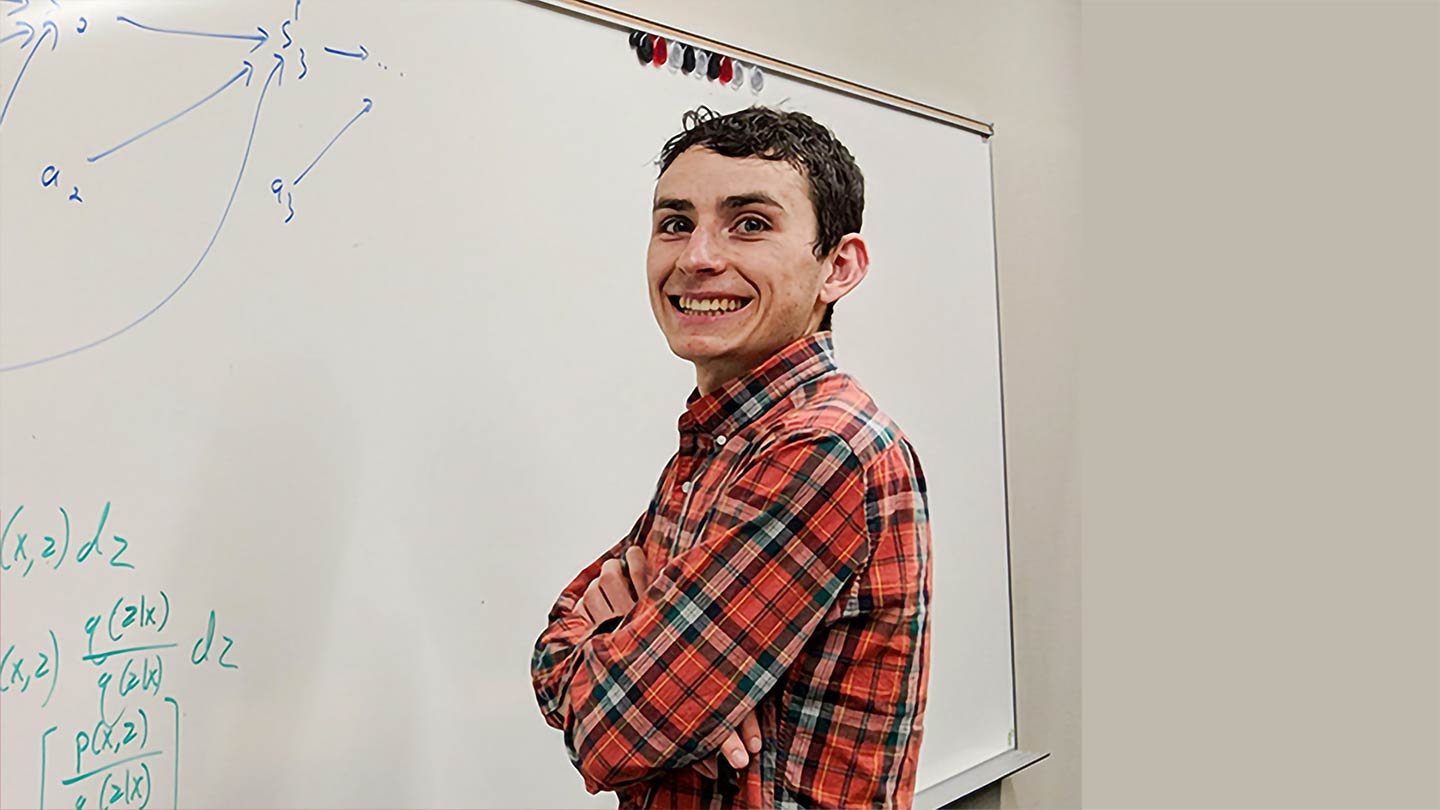 April 15, 2019
Eysenbach Named Hertz Fellow
By Michael Henninger mhenninger(through)cmu.edu
Media Inquiries
Byron Spice
Director of Media Relations
The Fannie and John Hertz Foundation announced today that Carnegie Mellon University student Ben Eysenbach will receive a 2019 Hertz Fellowship. 

Eysenbach is one of 11 recipients of the fellowship this year, chosen from more than 840 applicants. He will receive up to five years of academic funding, potentially amounting to $250,000, and the freedom to independently choose what to research upon.

Eysenbach is currently a first-year Ph.D. student in Carnegie Mellon University's Machine Learning Department, where his work focuses on teaching computers how to make good decisions. He plans to study and design algorithms that allow computers to safely make decisions on behalf of humans, whether in robotics, healthcare, or education.

"I'm excited to be able to spend the next five years of my life working on difficult research problems with collaborators, unconstrained by funding obligations," Eysenbach said. "I don't take for granted how unique it is to be in a position where I am supported by The Hertz Foundation to spend my days learning to solve hard problems."

Eysenbach started working on his Hertz Fellowship application last fall. Once he made it to the first round of interviews, he sought help preparing from CMU's Fellowships and Scholarships Office. There, Richelle Bernazzoli, assistant director of undergraduate research and national fellowships, helped him with formal mock interviews.

"Our office maintains a relationship with the broader fellowships community in the U.S., and with a lot of individual foundations. We have extensive, collective experience about what makes for strong applications, and can give tailored feedback to students who go for these awards."

Bernazzoli said she was impressed with Eysenbach. 

"Ben's great at taking cutting-edge topics in machine learning and translating them for different types of audiences," Bernazzoli said. "When you hear the kinds of things he's working on, it's incredibly impressive. It's exciting to see him represent Carnegie Mellon in this group of elite scholars that have been recognized by the Hertz Foundation."

CMU has a long history with the Hertz Foundation, with over 50 CMU students and faculty earning fellowships. 

Shelley Anna received a bachelor's degree in physics from Carnegie Mellon in 1995, the same year she received a Hertz Fellowship. She's now a professor of chemical engineering in CMU's College of Engineering. 

"The spirit of the Hertz Foundation is really in line with the spirit of Carnegie Mellon," Anna said. "We have such a long history of creative, interdisciplinary work that pushes people to go beyond the status quo. In my mind, that goes hand in hand with what Hertz is looking for."

Po-Shen Loh, an associate professor of mathematical sciences in the Mellon College of Science, received a Hertz Fellowship in 2004 and did his Ph.D. at Princeton. He is now an interviewer for the fellowship's selection process.

"The Hertz Foundation looks for people who will have a very significant impact on the future of humankind," Loh said. "They seek the kind of people who will continue to pursue their intellectual curiosity, in order to drive the human race to a higher place." 
Learn more about the Fannie and John Hertz Foundation on the organization's website. 
Machine Learning PhD Student Ben Eysenbach Named Hertz Fellow
Machine Learning PhD Student Ben Eysenbach Named Hertz Fellow<
By Michael Henninger