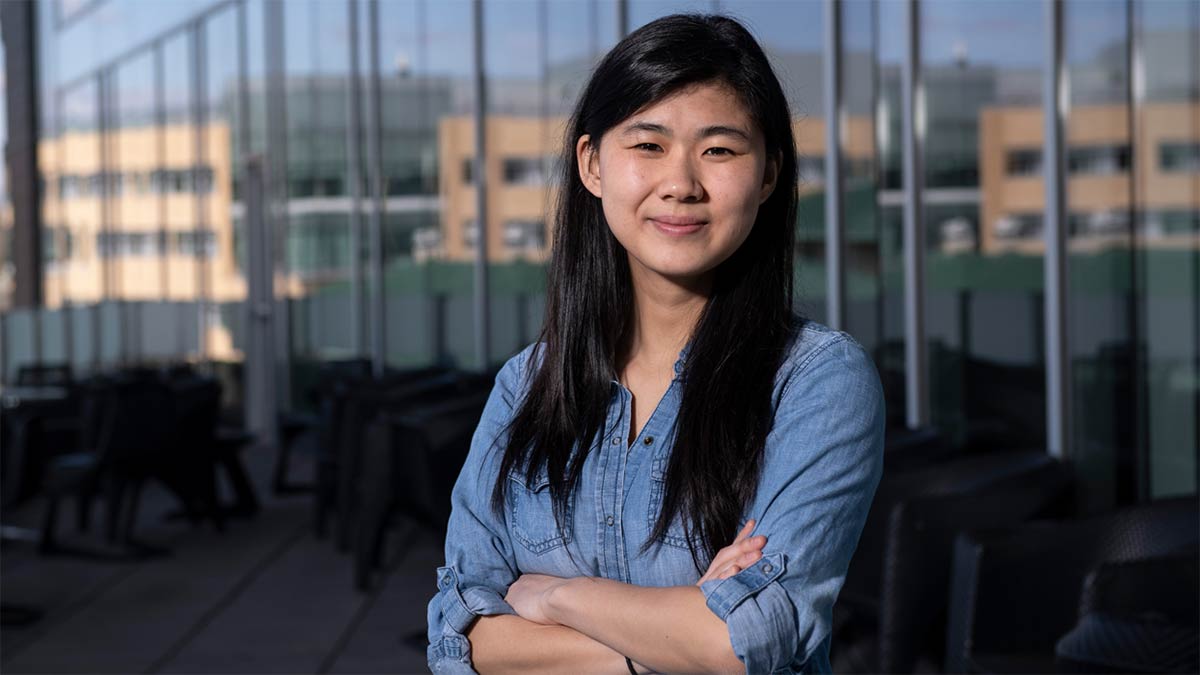 April 11, 2019
Zhou Named Paul and Daisy Soros Fellow
By Susie Cribbs (DC 2000, 2006) cribbs(through)cs.cmu.edu
Media Inquiries
Byron Spice
Director of Media Relations
Helen Zhou, a Ph.D. student in Carnegie Mellon University's  Machine Learning Department, has received a Paul and Daisy Soros Fellowship for New Americans. Zhou is one of only 30 students to be named a 2019 fellow out of more than 1,700 applicants.
Founded in 1997 by Hungarian immigrants Daisy M. and Paul Soros, the P.D. Soros Fellowship honors the achievements of continuing generations of immigrants to the United States. Selected for their potential to make significant contributions to U.S. society, culture or their academic field, the P.D. Soros fellows are all children of immigrants, Deferred Action for Childhood Arrivals (DACA) recipients, green card holders or naturalized citizens.
"The immigrant experience is a big part of my identity," said Zhou, who was born in Winnipeg, Manitoba, and moved with her family to Canton, Michigan, at age six. "When I was born, my parents had just started building a life here with nothing but my dad's graduate school stipend. Being a Canadian-born, Chinese-American has really shaped my perspectives on the world, and I am thankful for having grown up with a foot in both Eastern and Western cultures."
Zhou earned her bachelor's and master's degrees in computer science and electrical engineering from MIT, where she performed machine learning research at the MIT Media Laband Clinical Machine Learning Group. Outside the lab, she served as a founding board member of the IEEE-MIT Undergraduate Research and Technology Conference, organizing chair for the Eta Kappa Nu tutoring service and teaching assistant to more than a thousand students. She also completed internships with Google and Amazon Search. This past fall, she joined CMU's Machine Learning Department as a Ph.D. student.
The P.D. Soros Fellowship, which includes up to $90,000 in funding for graduate education, will support Zhou's research into problems at the intersection of machine learning and healthcare — including personalization, interpretability for human-in-the-loop learning and synthesizing heterogeneous data from multiple modalities. Through the lens of machine learning, Zhou hopes to develop trusted and accessible methods that will allow scientists to shed new light on poorly understood aspects of healthcare and medicine.
"Helen's ambition, scientific ideas and commitment to the field of machine learning are truly impressive," said Brittany Allison, an assistant director in CMU's Fellowships and Scholarships Office. "Receiving the P.D. Soros Fellowship is a prestigious honor, and we expect to continue to see great accomplishments from Helen in the future!"
Zhou noted that the P.D. Soros Fellowships prioritize a strong sense of community among fellowship recipients, which she appreciates. She joins a diverse community of past fellows, including former Surgeon General Vivek Murthy and Fei-Fei Li, a leading AI researcher at Stanford University.
"It's thrilling to see what these brilliant young minds from around the country and world are working on — genetics, fiction, computer science, law, medicine, music — these young New Americans will amaze you," said Craig Harwood, who directs the P.D. Fellowships program. "Paul and Daisy Soros fellows are all passionate about giving back to the country and remind us of the very best version of America."
Zhou is Carnegie Mellon's third P.D. Soros fellow. She joins past fellows Ania Jaroszewicz (2016), who will earn a Ph.D. in behavioral decision research this year; and Wennie Tabib (2013), who completed a master's degree in robotics in 2014.
Learn more about the P.D. Soros Fellowship on the organization's website.
Machine Learning PhD Student Helen Zhou Named Paul and Daisy Soros Fellow
Machine Learning PhD Student Helen Zhou Named Paul and Daisy Soros Fellow
By Susie Cribbs