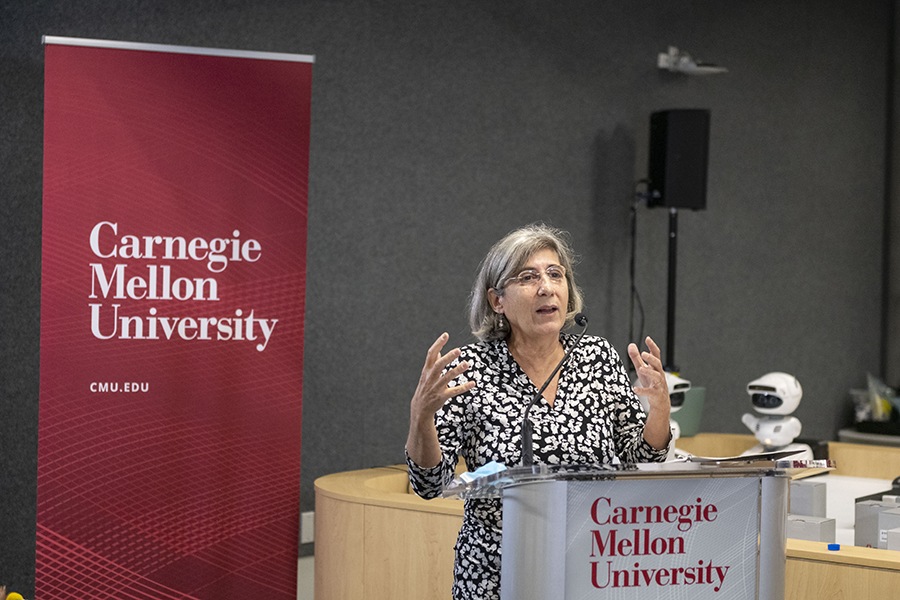 February 17, 2022
Manuela Veloso Elected to National Academy of Engineering
Manuela Veloso, head of JPMorgan Chase AI Research and the Herbert A. Simon University Professor Emeritus in Carnegie Mellon University's School of Computer Science, was elected as a 2022 member of the National Academy of Engineering for her contributions to machine learning and its applications in robotics and the financial services industry.
The honor is among the highest professional distinctions bestowed on engineers.
Veloso earned her Ph.D. in computer science from CMU, joined the university's Computer Science Department faculty, and was the head of the Machine Learning Department. She has consistently pursued research and teaching in artificial intelligence, robotics and machine learning, and has advised 45 CMU Ph.D. students. Veloso founded and leads an AI Research group at JPMorgan Chase, introducing a wide range of novel solutions to bring AI to the finance industry. She continues to keep a close connection with CMU, in particular with the newly inaugurated JP Morgan Chase AI Maker Space.
Joining Veloso in the academy's latest class are Elon Musk of SpaceX, Satya Nadella of Microsoft and Telle Whitney of the Anita Borg Institute. A full list of the incoming class is available on the academy's website. Members of the new class will be formally inducted during the academy's annual meeting in October.