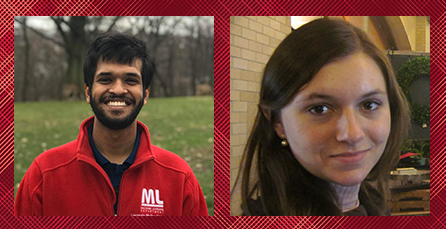 March 24, 2022
MLD Students Receive Amazon Graduate Research Fellowships
Two Ph.D. students with ties to the Machine Learning Department (MLD) were part of a cohort of SCS students who recently received Amazon's second round of research fellowships. The program supports graduate students researching automated reasoning, computer vision, robotics, language technology, machine learning, operations research and data science. The students will be invited to interview for a science internship at Amazon.
Saurabh Garg, an MLD Ph.D. candidate, is interested in building robust and interpretable machine learning systems. He is researching the behavior of machine learning models in real-world scenarios and building provable methods to make progress toward relaxing simplifying assumptions to make robust and trustworthy models. Garg's faculty advisors are Zachary Lipton, assistant professor of operations research and machine learning in MLD and the Heinz College, and a deputy dean in the Tepper School of Business; and Sivaraman Balakrishnan, associate professor of statistics in MLD and the Dietrich College of Humanities and Social Sciences.
Natalia Lombardi De Oliveria, a student in CMU's Department of Statistics and Data Science, is pursuing her Ph.D. in data science and machine learning. She is focused on estimating generalization — the difference between the test and training performance of a predictive algorithm. One of her faculty advisors is Ryan Tibshirani, a professor of statistics and machine learning.
Other recipients of 2022 fellowships include CSD Ph.D. students Emily Black, Emre Yolcu and Minji Yoon, who is advised by MLD Professor Ruslan Salakhutdinov. Read more about the fellowship on the Amazon Science blog.