June 06, 2017
Christos Faloutsos Wins the Test of Time Award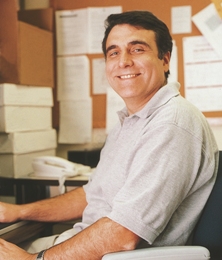 Computer Science Prof. Christos Faloutsos and his brothers, Michalis (University of California-Riverside) and Petros (UCLA), were honored with the Test of Time Award for their 1999 paper, "On the Power Law Relationships of the Internet Topology" by SIGCOMM, the premier computer communications conference.

Prior to the paper's publication in Computer Communication Review, the popular assumption was that most computers in a network had roughly the same number of connections. But the Faloutsos brothers showed that the distribution actually is very skewed, with a few nodes having many, many connections, and the vast majority of computers having just one or two. It's a pattern that has since been shown to be true for the distribution of Internet links, social-network friends and blog readership.

This knowledge of the topology of the Internet has proven useful for, among other things, designing systems and developing cybersecurity strategies. Citeseer reports the paper as the 4th most sited of all papers published in 1999.

The Test of Time Award was presented at SIGCOMM 2010 in New Delhi, India.