June 06, 2017
Professor Aarti Singh Receives NSF CAREER Award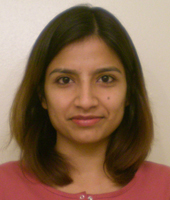 Title: Distilling information structure from big and dirty data: Efficient learning of clusters and graphs in modern datasets.

The project will develop computationally efficient and principled methods for extracting information structure in the form of clusters and graphs from big and dirty datasets arising in modern application domains. Specifically, this work will enable efficient learning of clusters and graphs from data that is large-scale, high-dimensional, under-sampled, corrupted, and often only available in a compressed or streaming representation. It will provide a precise characterization of the tradeoffs between number of measurements, computational complexity and robustness in these settings, and how intelligent adaptive sampling can help improve these tradeoffs. The methods and theory developed will be evaluated on real datasets in neuroscience and healthcare domains, including clustering patients with similar phenotypes and genotypes helps identify target groups for drug design, clustering fiber tracks generated by high-resolution Diffusion Spectral Imaging (DSI) scans of brains help identify significant neural pathways, and learning graph structures that reflect connectivity between brain regions and gene networks.
The Faculty Early Career Development (CAREER) Program is a Foundation-wide activity that offers the National Science Foundation's most prestigious awards in support of junior faculty who exemplify the role of teacher-scholars through outstanding research, excellent education and the integration of education and research within the context of the mission of their organizations. Such activities should build a firm foundation for a lifetime of leadership in integrating education and research. NSF encourages submission of CAREER proposals from junior faculty members at all CAREER-eligible organizations and especially encourages women, members of underrepresented minority groups, and persons with disabilities to apply.